Winter weekend getaways in New England can look like the perfect winter scene you would expect from a Currier & Ives print. Although winter in New Hampshire, Vermont and Maine is closely associated with skiing, winter weekend getaways in New England are also great for non-skiers. Between the craft beer and foodie scenes in winter getaways in Vermont, for example, you will have a wonderful time. Just remember to bundle up warm!
Winter Weekend Getaways in New England
Although skiing is a popular activity for winter getaways in Vermont and New Hampshire, there's plenty of other things to do in the region during the winter season. Winter weekend getaways in New England definitely isn't limited to ski enthusiasts! For example, Providence in Rhode Island is a fantastic city break for even a day trip from Boston.
Winter in New Hampshire and Vermont has lots of other snow-related fun such as snow mobiling, snowshoeing and ice skating. Check out winter hiking in New Hampshire, cross-county skiing in Southern Vermont and winter getaways in Maine at Acadia National Park.
Prefer to enjoy your winter weekend getaways in New England in relative warmth? For foodies, Providence is a perfect winter getaways in Rhode Island and, likewise, Lake Champlain for winter getaways in Vermont. Alternatively take scenic drives for picture perfect vistas of your winter in New Hampshire.
In this article, six fellow New England enthusiasts describe how you can have great winter weekend getaways in New England.
Winter Getaways in Maine: Portland
Portland, Maine is a must-visit if you're in New England at any time of year, but, contrary to popular belief, it is a dream to visit in the winter months.
Fill your lungs with a deep breath of salty air and take in the iconic coastal Maine charm all around you. You'll love exploring Portland's quaint and lovely city center, especially the Old Port area and Commercial Street areas, coupled with wintry views of the ocean from various viewpoints of the Casco Bay.
There are a variety of hotels and Airbnbs in the downtown area and the beautiful adjacent West End neighborhood that offer lovely views and other amenities. A particular favorite is the Portland Regency Hotel, located in a 19th century armory.
Take advantage of picking your own fresh lobster at local restaurants like The Lobster Shack at Two Lights and be sure to sample another Maine delicacy: homemade whoopie pies!
Luckily, Portland's coastal location makes it much less cold in the winter than other parts of the region, which makes it possible to do outdoor activities, such as exploring the Eastern Promenade, a former train corridor turned city park, and of course the Portland Head Light (pictured): said to be the most-photographed lighthouse in the entirety of the United States!
If you have an extra day in the area to explore, world-renowned Acadia National Park is located about 3 hours away from Portland, and has some trails and scenic byways still open in the winter.
Portland is the perfect destination for families, a romantic getaway, or a girls' trip– there's so much to do and see, and you'll want to come back again and again. 
by Tegan George at Why Not Walk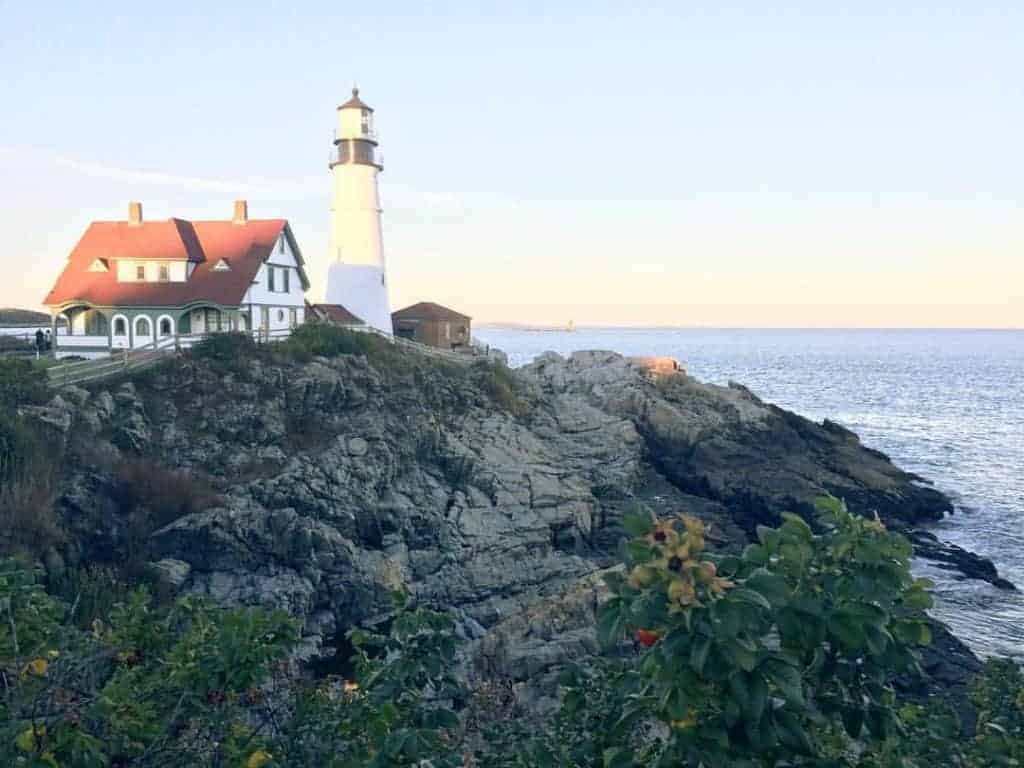 Winter in New Hampshire: North Conway
One of the best places in New England to have a winter weekend getaway is the beautiful New Hampshire mountain town of North Conway.
Located three hours north of Boston in the heart of the White Mountains, North Conway offers many winter activities and everything you need to complete a weekend getaway, including beautiful hotels, family-owned restaurants, and unique shops.
North Conway is the perfect base for exploring everything the White Mountains have to offer in the winter. You'll soon understand why visiting the White Mountains should be a New England bucket list item! 
Although many people choose to have a weekend getaway in North Conway to hit the slopes on the five ski resorts nearby that offer over 270 trails on 1,300 skiable acres, there are many other things to do!
You can hike 1.3 miles to a 75-foot waterfall, Diana's Bath, or 2.3 miles to Black Cap, which offers incredible views of the surrounding mountains. If you want to enjoy mountain views without much effort, you can drive the 32-mile Kancamagus Highway or take a SnowCoach tour to the tallest mountain in the Northeast, Mount Washington. No matter how you want to spend your weekend, North Conway is the perfect spot in New England for a winter getaway!
by Nichole from Nichole the Nomad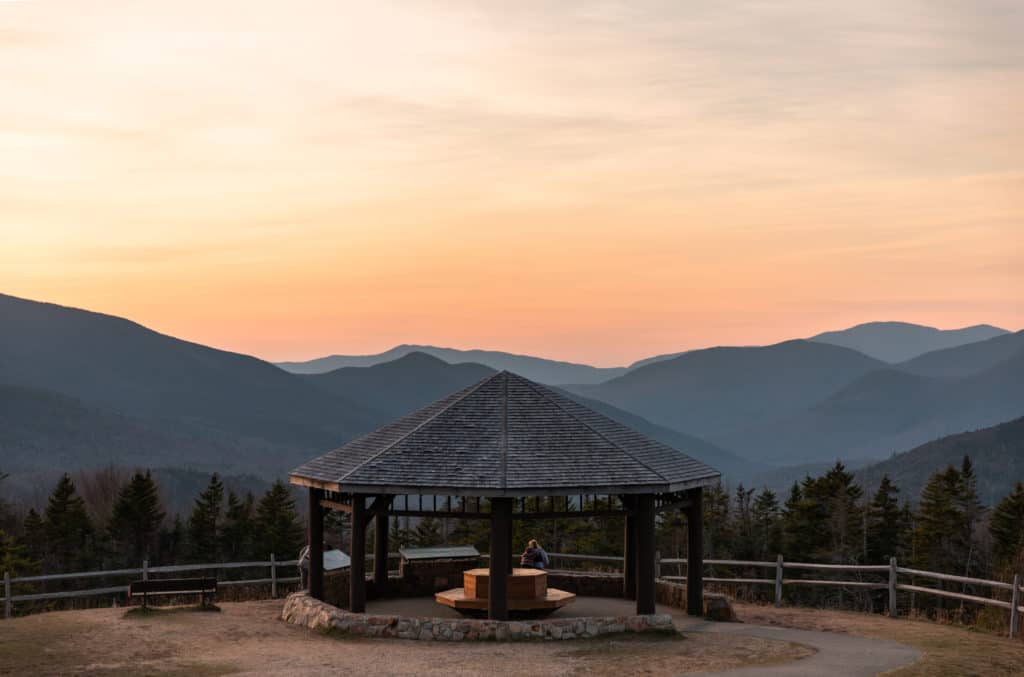 Winter in New Hampshire: Portsmouth
Known as "America's Greatest Small Town" by National Geographic Travel, I think a visit to Portsmouth should be on everyone's winter New England bucket list.
Portsmouth is the crown jewel of New Hampshire's Seacoast and is perfectly situated an hour from the White Mountains and an hour from Boston. It's the perfect place to visit for a weekend, or can even be enjoyed in just a day trip for fall foliage viewing.
Downtown historical Portsmouth is very unique as it has colonial homes dating back to the 17th century. Strawbery Banke, an outdoor history museum, is New Hampshire's oldest neighborhood to be settled by Europeans. When visiting Portsmouth, be sure to check out all the small businesses downtown in an area of the city known as Market Square.
I recommend staying in this area as well. There are several hotels in the area, including a nice Hilton and several Marriotts. The nicest hotel along the Seacoast is definitely the Wentworth by the Sea, which is stunning year-round, but really comes to life around the holidays.
The nice thing about Portsmouth is that everything downtown is within walking distance, so no car is necessary. Enjoy your visit!
by Nicole Rosania at The Abroad Blog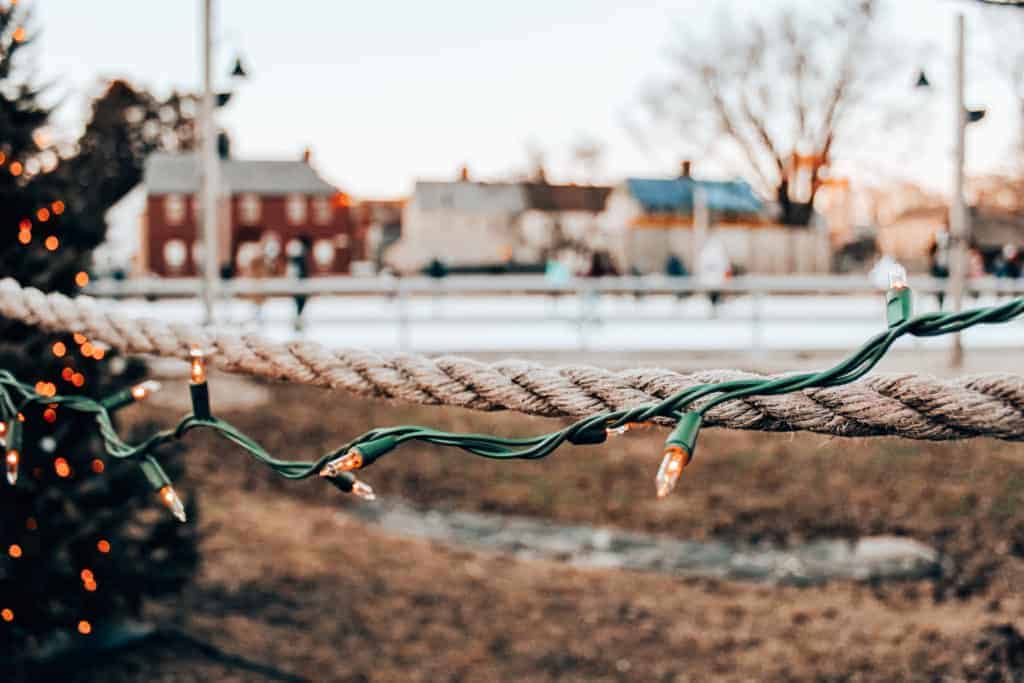 Winter in New Hampshire: White Mountains
Northern New Hampshire is home to the spectacular White Mountains region, which is simply magical covered in snow.
While you're here, drive one of New England's most scenic roads, the Kancamagus Highway. This 34.5-mile stretch of road runs through the White Mountain National Forest and offers numerous opportunities to stop and explore.
At the northern end of the region is Bretton Woods, which includes the famous Omni Mount Washington Resort. Here, guests can enjoy a spa and numerous dining venues.
However, even if you'd prefer more budget-friendly accommodations, stop by to marvel at the view of Mount Washington, the highest peak along the East Coast.
As you head south, stop off at Franconia Notch State Park, located in the White Mountain National Forest. It includes numerous hiking trails and the idyllic Flume Covered Bridge.
Further south is North Woodstock, home to Ice Castles New Hampshire. This winter attraction showcases icicles in the form of ice sculptures and frozen tunnels. It's the perfect outing for kids or
for that special winter photoshoot.
For more action, try dog sledding at Muddy Paw Sled Dog Kennel in Jefferson. Just reserve in advance, as this doggie diversion books quickly!
by Elena Pappalardo at The Carry-On Chronicles
Winter Getaways in Rhode Island: Providence
Providence is my favorite foodie city, so it's perfect for winter because you can stay warm inside all of the amazing restaurants.
Head to Federal Hill for authentic Italian food or if you're looking for classic American food, Harry's Burger Bar is the place to go.
If you're looking for an outdoor activity, go towards the Bank Newport City Center ice rink for ice skating and bumper boats. Want to spend more time inside? Walk over to the RISD Art Museum, and spend a few hours warming up. 
There are AirBnb's aplenty in Providence. Look to stay in the city center to be right in the middle of the action or near College Hill for some great shopping, and a bit of a quieter vibe. There are also plenty of hotels in the city center. I would recommend the Omni or Hotel Providence. 
I would spend every weekend in Rhode Island if I could. It has everything you could ever need–yummy food, sweet small business to shop in, and fun indoor and outdoor activities. Perfect for couples, families and getaways with friends. 
by Carolina Jost from So The Adventures Continues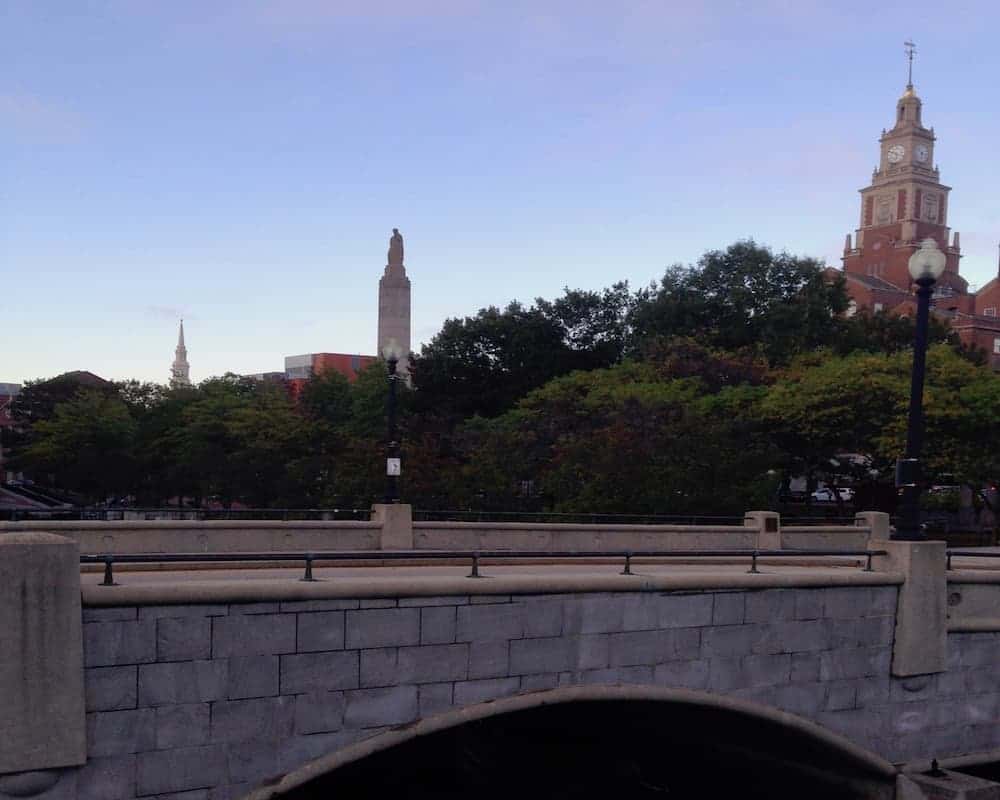 Winter Getaways in Rhode Island: Newport
There's plenty to do on winter weekend in Newport. If you are bundled against the cold, Newport RI is just as pretty a seaside resort with piercing blue skies in the winter as in the popular summer Newport season.
In addition to the usual great restaurants in the city, there's great shopping as well. Don't miss checking out the antique and collectibles dealers from all over New England gathered together at the indoor market, Armory Antique Marketplace.
The Winter Festival in Newport RI is an annual event (sadly cancelled in 2021) but promising a return in 2022. Running from a weekend to weekend in February, the Winter Festival in Newport RI hosts entertainment providing food, music and family-friendly events. One of the cooler events you can expect to see is beach polo!
Some of the famous Gilded Age cottages are open in the winter, including The Breakers. Take a brisk walk on Cliff Walk and enjoy the waves crashing. For the hardy, you might even join in the surfers in the ocean.
by Shobha George of Martha's Vineyard Tourist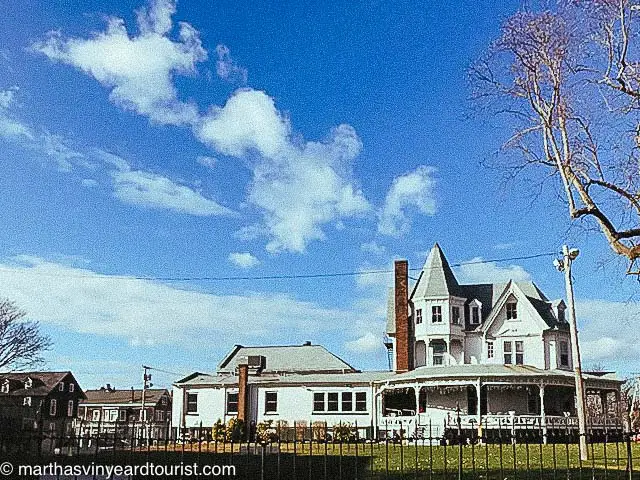 Winter Getaways in Vermont: Burlington
Nestled up to Lake Champlain in the northwest corner of Vermont, Burlington is a fabulous winter getaway. Major highways connecting New York, Boston, and other New England cities make Burlington an easy place to get to for an enjoyable weekend when the snow flies.
Winter outdoor activities abound. Alpine skiing and snowboarding at Bolton Valley and Stowe Mountain resort are nearby. For cross country skiers, there are free Nordic ski trails within Burlington city limits. Add in ice skating, ice fishing or watching a sunset on Lake Champlain for more winter activities.
For visitors looking for less active pursuits, the pedestrian mall of the Church Street Marketplace beckons. Stroll past festive lights, stop at one-of-a kind shops, or sample Burlington's famous foodie scene. Admire the ice sculptures at a weekend ice festival.
For curious kids and adults the Echo Center is the premiere science and nature center on Lake Champlain. A few hours of scientific discovery in the exhibits of the Echo Center is a family favorite. 
The craft breweries and music venues sprinkled throughout the city promises vibrant nightlife. Stay downtown at the Hilton Burlington overlooking Lake Champlain. Have a nightcap next door at the Hen of the Woods, a locally acclaimed upscale restaurant.
by Karen Warren at Outdoor Adventure Sampler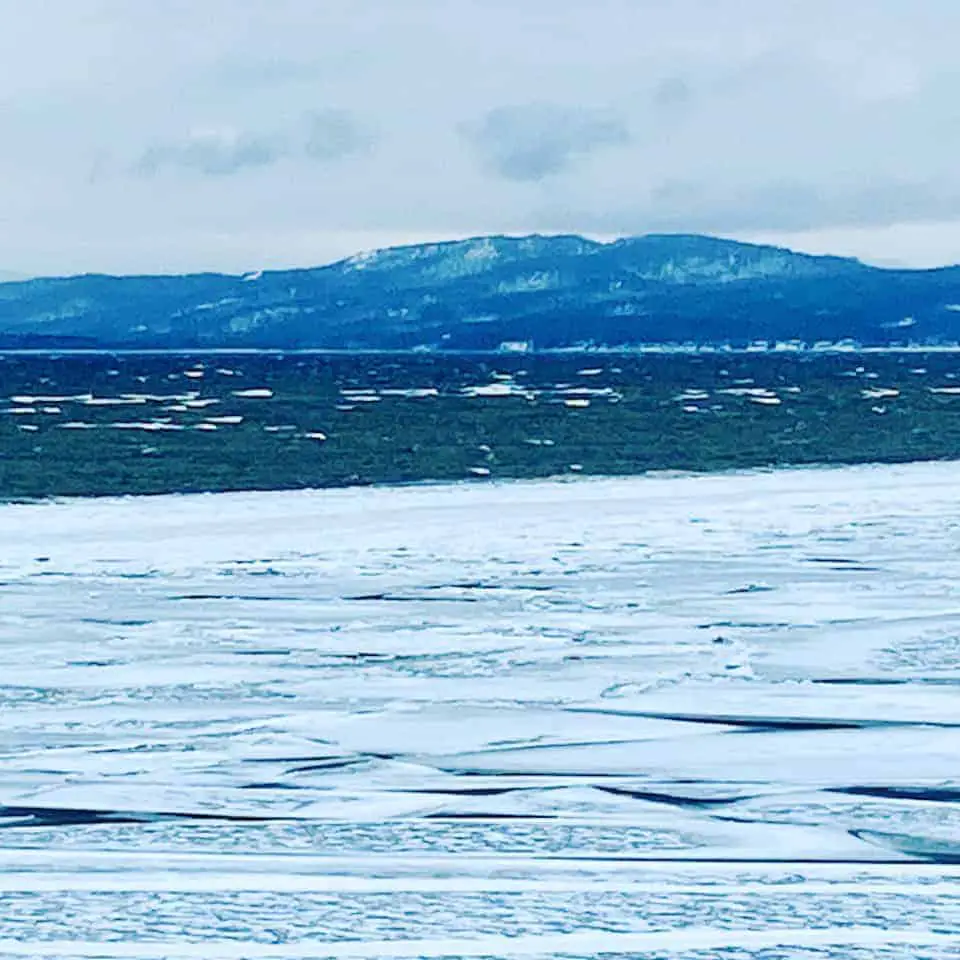 SPREAD THE WORD! PIN THIS TO YOUR TRAVEL PINTEREST BOARDS FOR FUTURE REFERENCE! 
We did not receive compensation of any form, monetary or otherwise, from any of the products, services, hotels etc mentioned in this article.
This site generates income via partnerships with carefully-curated travel and lifestyle brands and/or purchases made through links to them at no extra cost to you. More information may be found on our Disclosure Policy.